Double victory: Vinzenz (Nordic Combined) and Karl (Ski Jumping)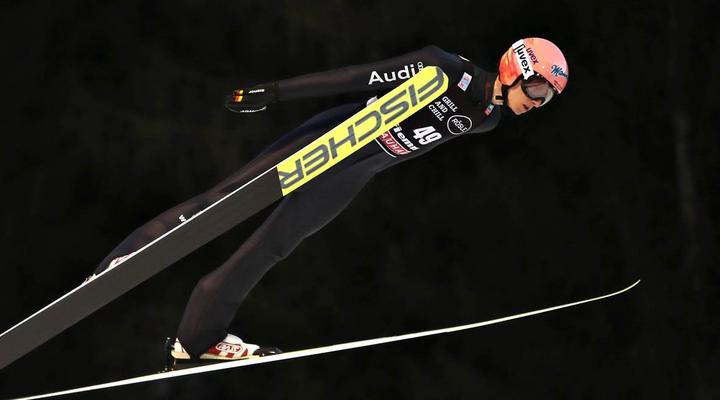 Nordic Combined and Ski Jumping in Val di Fiemme until tomorrow
Karl Geiger won the Ski Jumping competition ahead of Stefan Kraft (AUT) and Dawid Kubacki (POL)
The German now leads the FIS Ski Jumping World Cup standings and dreams to win for the second time
This afternoon another Geiger (Vinzenz) won the Nordic Combined race. The two are distant relatives

Vinzenz Geiger and Karl Geiger are distant relatives (maybe distant cousins), but both have the makings of real champions. Vinzenz won today's FIS Nordic Combined Individual Gundersen in Val di Fiemme, while Karl triumphed in the FIS Ski Jumping competition at the Ski Jump Arena of Predazzo.
The German ski jumper performed two incredible jumps (294.6) and won today's race ahead of Stefan Kraft (AUT) and Dawid Kubacki (POL); the latter was the favourite after winning last year's edition in Val di Fiemme. "I wasn't lucky with the wind in the first jump, in the second one I had better conditions, I'm satisfied with my third place and that my teammates have entered the top 10", stated Kubacki. In fact, Kamil Stoch (POL) raced to a fourth-place finish – he seems to be in good shape again – while Piotr Zyla (POL) finished seventh.
Karl Geiger is now leading the FIS Ski Jumping World Cup standings: "I really love this area; it brings me luck. I had a good first jump, the second was almost perfect and tomorrow we have another race".
Ryoyu Kobayashi raced to an unexpected 26th place finish. Stefan Kraft has had a good season so far: "I'd be happy if tomorrow I could jump as good as in today's race".
Tomorrow there will be another FIS Ski Jumping World Cup competition on the normal hill (HS 104) in Predazzo. As regards the FIS Nordic Combined World Cup, the athletes will compete in the team sprint.

Download TV images:
www.broadcaster.it
Normal Hill Individual
1. GEIGER Karl GER 294.6; 2. KRAFT Stefan AUT 286.9; 3. KUBACKI Dawid POL 279.9; 4. STOCH Kamil POL 279.8; 5. SCHMID Constantin GER 279.1; 6. LEYHE Stephan GER 277.6; 7. ZYLA Piotr POL 276.6; 8. PASCHKE Pius GER 274.5; 9. FORFANG Johann Andre NOR 269.7; 10. LANISEK Anze SLO 269.2