GYDA IS A VIKING FIGHTER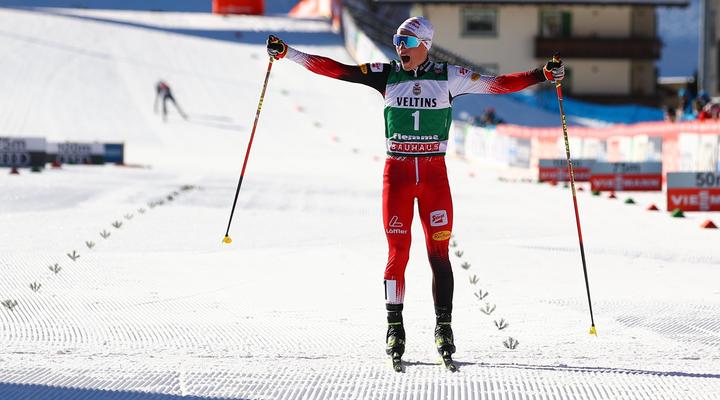 Spectacular competition of Nordic Combined. Lamparter (AUT) wins in World Cup
Geiger and Frenzel sprint for second place
World Cup Women Mass Start is a show
Hansen is reborn from a fall with a top ski-jump

Johannes Lamparter, just a little older than 20, played "big" during the second day of Nordic Combined World Cup in Val di Fiemme. In the cold morning, his jump was the longest (105.5 m) and unbeaten, second Eric Frenzel (GER), almost sure about his success. In the afternoon, with the 10 km in Lago di Tesero, Lamparter made it clear to everyone. He is the winner today and brings home 100 precious Cup points.
A sparkling hill in the morning in Predazzo, great and icy snow, a little audience was also present. Rankings kept on changing until the end: Lamparter leaves all behind, Frenzel follow with 14'', the Norwegian Oftebro is just 18'' behind. In the afternoon, the sun was shining, snow was perfect and temperatures was around zero, getting higher as Lamparter starts. Before the finish of the first lap, he gained 2'' more, the Germans Frenzel and Geiger struggled to keep Oftebro quiet. Lamparter seems to slow, but he knew Germans were good: he turbocharged, his first World Cup victory is conquered. Finish line with a wild scream and a sweet kiss to his parents.
Among women, Gyda Westvold Hansen is the chosen one. The Norwegian, 20 years old in April 2022, is the first woman winning a World Cup competition in Val di Fiemme. This afternoon, in the cross-country fraction, she almost ruined it all with a fall, yet, she stood up in ski-jumping. The talented Japanese Anju Nakamura finished first in the cross country, preceding Westvold and Hirner, three names to remember. Westvold jumped as her male mates, 101 meters. She won, followed by Nakamura, then Hirner.

Download videoTV: www.broadcaster.it
Individual Gundersen Men HS 106 / 10 Km
1 LAMPARTER Johannes AUT 25:49.8; 2 GEIGER Vinzenz GER +16.5; 3 FRENZEL Eric GER +16.7; 4 GRAABAK Joergen NOR +30.2; 5 RYDZEK Johannes GER +30.7; 6 SEIDL Mario AUT +30.7; 7 WATABE Akito JPN +36.4; 8 OFTEBRO Jens Luraas NOR +42.5; 9 FRITZ Martin AUT +44.2; 10 RIESSLE Fabian GER 54.3
Mass Start Women HS 106 / 5 km
1 WESTVOLD HANSEN Gyda NOR 124.6; 2 NAKAMURA Anju JPN 110.5; 3 HIRNER Lisa AUT 109.4; 4 KASAI Yuna JPN 106.4; 5 LEINAN LUND Mari NOR 105.5; 6 LEINAN LUND Marte NOR 102.7; 7 VOLAVSEK Ema SLO 98.5; 8 SIEFF Annika ITA 96.0; 9 HAGEN Ida Marie NOR 93.5; 10 BROCARD Lena FRA 92.2
© Newspower